"ACE24" Back Panel and Specifications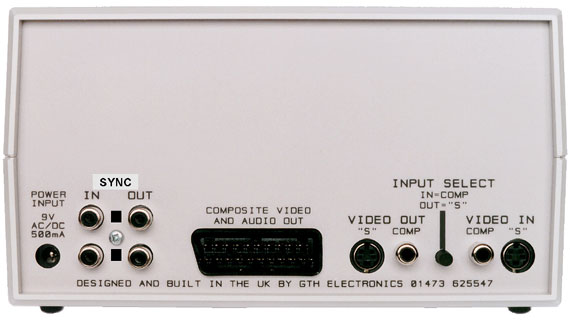 ACE24 SPECIFICATIONS
The ACE24 Video to Film Rate Convertor will convert any TV standard to 24fps movie film rate with full colour correction and timebase correction or can be used for colour correction of any TV standard without conversion. It is supplied with Two Stereo Phono leads, an "S" video lead and a special "S" to Dual Composite video lead. It comes complete with Full Manual, Full 1 Year Warranty and 220/240V AC Mains Adaptor where applicable.
Click on any Connector Group in the Picture Above to go Directly to its Description.
Video
VIDEO INPUTS: "S" Video (Mini DIN) and Composite (Phono), Switchable with Automatic Colour Standard Conversion

VIDEO OUTPUTS: "S" Video (Mini DIN), Composite (Phono) & Composite + RGB/YUV (SCART), All Simultaneous.
The "S" Video Output can also be switched to give 2 Extra Composite Video Outputs (4 Total), using special lead supplied.

If your Monitor or TV has S-VHS capability with only a SCART Input, or if your video source has only a SCART Output, then we can supply switchable (Input or Output) "S" & Phono to SCART adaptors at the nominal sum of £4 each.

If you wish to connect the RGB or YUV Outputs to a device with no SCART input, such as a projector or Betacam VCR, then we can supply a specially modified SCART to Three Phono adaptor at the nominal sum of £10 each.

If you wish to process RGB inputs then we suggest you buy the RGB to "S" Video Converter from J.S.Technology

VIDEO INPUT and OUTPUT LEVELS and IMPEDANCES:
"S" Video Luminance 1V peak to peak into 75 Ohms
"S" Video Chrominance 0.3V peak to peak into 75 Ohms
Composite 1V peak to peak into 75 Ohms
RGB/YUV on SCART 0.7V peak to peak into 75 Ohms (Output Only)

VIDEO BANDWIDTH:
"S" Video Luminance 5.5MHz (True "S" Processing)
"S" Video Chrominance 1MHz (True "S" Processing)
Composite Luminance 3MHz on Original ACE, 5.5MHz for Convertor (Using Comb Filtering)
Composite Chrominance 1MHz

VIDEO SIGNAL/NOISE RATIO: >50dB (Colour Burst, Sync & Blanking All Regenerated)

CONTRAST & SATURATION: 0 (Zero) to +6dB (Double)

VIDEO SHARPNESS: +/- 3dB at 3MHz

HORIZONTAL COLOUR SHIFT: 0 +/- 740ns in 10 steps either way. (+/- 7mm approx on 50cm screen width).

VERTICAL COLOUR SHIFT: 0 to + 3 Lines per Field in 1 line steps (= 0 to +6 Lines per Frame in 2 line steps).

Sync
MASTER SYNC FREQUENCY STABILITY: 24 FPS ± 0.0005 FPS (± 20 parts per million) over 0°C to 40°C
MASTER SYNC OUTPUT LEVEL and IMPEDANCE: 1.2V Peak to Peak from 75 Ohms Typical, DC Coupled.
SLAVE SYNC INPUT LEVEL and IMPEDANCE: 0.35V Minimum Peak to Peak into 75 Ohms Typical. AC Coupled.

Power
POWER INPUT: 8-10V RMS AC or 9-12V DC at 600mA See Power Supply Details but note ACE24 takes 600mA

MAINS POWER: 220/240V AC Nominal, 50/60Hz (USA & Canada See Power Supply Details)
Dimensions
205mm (Width) x 115mm (Height) x 160mm (Depth)

DESIGNED AND BUILT IN THE UK BY and AVAILABLE DIRECT FROM GTH ELECTRONICS

Copyright GTH Electronics 1997 - 2019

Click Here to Return to the
GTH Home Page


Keywords: color, colour, digital, video, processor, standard, convert, converter, red, green, blue, white, balance, contrast, brightness, saturation, hue, sharpness, enhance, invert, aspect, ratio, letterbox, zoom, PAL, NTSC, SECAM, DVD, Betacam, DV, Hi-8, S-VHS, VHS, home cinema, home theater, video processor, colour corrector, corrector, edit, fade, bleed, VCR, bars.